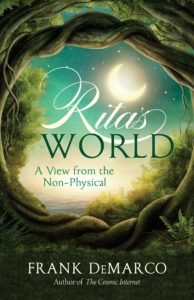 We are connected. This book tells us how and why.
Rita's World is a conversation between friends in two worlds: Rita Warren, now in the non-physical world, and me. While Rita was alive, we had engaged in weekly sessions in which Rita had asked questions about life, ranging from the simplest to the most profound, and I answered from an altered state of consciousness, speaking for the non-physical beings we called "the guys upstairs" or "TGU." Those sessions were made into a book, The Sphere and the Hologram, after she died in 2008. Now, seven years after she made her transition into the afterlife, she returns to the same subjects with a different perspective . . . from her world now.
Is life meaningful? Are we somehow important to the world? Is there a way to visualize and understand the afterlife?
Rita's World answers these questions. Flowing as simply and easily as a conversation between friends, it offers the reader a new way to see the world. It puts the center of life back where it belongs, after centuries of incomplete and misleading answers. What's more, it shows people by example how to find out for themselves what their life really is, and what it really amounts to.
I think that those who were fascinated by Seth or Edgar Cayce will like this book.
RITA'S WORLD: A View from the Non-Physical by Frank DeMarco
October 2015
$17.95 ● 416 pages
Trade paper ● 6 x 9
Available from:
Amazon (Paperback and Kindle)
Barnes & Noble (Paperback and Nook)