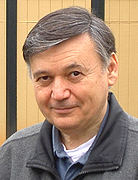 This blog is about you, or rather us.
I was well into middle age before I discovered what I knew all along had to exist somewhere. Even when I was very young, I knew that human life as we commonly experience it is not right, is strangely not the real thing.
When I was 24 I happened upon a science fiction novel by Colin Wilson called The Mind Parasites that expressed perfectly what I was feeling: the mental and spiritual powers commonly unsuspected in our benighted society were our birthright, but had been somehow lost. It took more than 20 years before I found the key to recapturing them, but I did find it — or rather, I found them, for there are different doors for different types of people, and we each can enter only the ones for which we are fitted. But the important thing — the thing worth shouting from the rooftops — is that the doors, and the keys, exist!
Your life has meaning, and with sincere effort you can find that meaning. When you do you will realize that it is the pearl of great price: You will gladly sell all that you own to obtain it.
If I can do for you what Colin's book did for me — if I can encourage you and point you in the right direction — I will be well pleased.