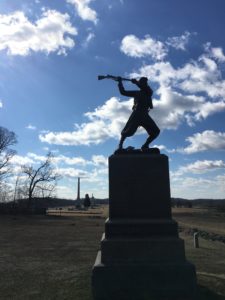 It isn't really Smallwood's, of course, but I think of it that way. When I visited Gettysburg a few years ago, I took a photo of it and later put it on the cover of Chasing Smallwood, to symbolize a pivotal moment in Smallwood's life.
Recently a man named Joseph Mancini sent me a manuscript about past lives and the civil war, and as soon as i read the initial chapter, I was moved to send him a copy of my book. When he visited Gettysburg a few days later, on a bitterly cold day, he took another photo, from about the same angle, and sent it to me.
Nice gesture, I thought.