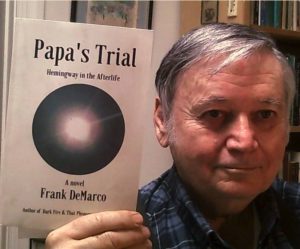 [Written a couple of months ago, for another venue.]
By 1961, Ernest Hemingway had lost his home in Cuba, his boat, and most of his friends. He had only recently talked himself out of the mental institution whose shock treatments had destroyed his memories and his ability to write, and he feared he was going to lose even his freedom. On July 2, he put a shotgun to his head and killed himself.
So death came to perhaps the greatest writer of English since Shakespeare, the man whose prose style influenced writers in many languages, whose first novel, a best-seller, became a classic. As did his second. And his fourth. Whose lifework was crowned unforgettably, by "The Old Man and the Sea."
Hemingway was so much more than a writer, though. How many facets to the man!
A master story-teller, a voracious reader, a connoisseurs of the visual arts, a man with an ear for every musical art form from opera to symphonies to jazz.
An intense lover of nature, , inputs wide open, thirsty for first-hand knowledge. a skillful fisherman and hunter, loving sea and sky, exulting in the wilds of Africa, mourning what America had done to its natural heritage.
A born teacher, and a born leaders of men, always at the center of any gathering, always the prime mover.
A man's men, always happy in male companionship. At the same time, a lover and admirer of women, hungering for them, observing them closely, valuing their difference, needing their respect and admiration.
A man who lived within a bubble of fame, yet had friends among both rich and poor, famous and unknown.
I could go on. One day I thought, why not a novel that would show that greatness? Not a reenactment, but something never before written? Not the same old Hemingway myth, but the man's inner self. What if Papa's past-life review came in the form of a trial? His always uneasy conscience might easily lead him to expect to be condemned.
A trial, of course, has witnesses: So many people from his past! His parents. His wives, living and dead, his friends and enemies. Above all, the younger self he had half-forgotten. So many incidents from his life that are not as widely known as they ought to be. And, at the end, a chapter called "What if?" looked at the path not chosen: his life as it did not happen. Best of all, I got to give his story a happy ending, instead of the way it looks when you think that the shotgun blast was the end, rather than the beginning.