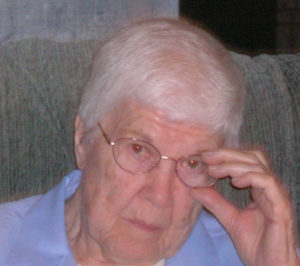 Rita
[Much of my own life is a mystery to me. I found this entry in my online journal, but not in the handwritten journal I would have expected it to have originated in. Plus, it seems to be a copy of an email to somebody, but I no longer remember to whom it was addressed. Rita had transitioned March 19, 2008.]
5-24-2008
Had my first dream of Rita!
She and Sharon Summers [Rita's long-time friend, who was driving her to a doctor's appointment when Rita had her stroke], I think, and I were in New York City, coming out of a store I guess because Rita was carrying two big bags of groceries, on in each arm. And she went running and skipping to the car! I'm worrying about will she lose her balance etc. – she who had needed an arm to hold on to, or a walker, and here she is hop-skipping while carrying two full bags of groceries or something.
Oh, and she was wearing purple pants, like stretch pants. I thought of, "when I grow old I shall wear purple."
We got to the car and she sat in the passenger seat and was supervising how I stowed what she had bought – there was this little pocket between the seat back and the side wall of the car, big enough to fit a few things, and she was telling me to love the articles more, but I don't remember what they were.
I know there was more to the dream beforehand, or maybe it was another dream, but when I realized that I had dreamed of Rita I thought, Contact! I knew it would take a while before we connected. (how did I know? But I was pretty sure.) The message seems obvious enough: She is well, joyous, vigorous, and expanding.
Thought you'd want to know.