First day, by design, rather than start us off at the crowded Giza plateau, Ruth and Ehab take us to see the relatively unfrequented pyramids at Dashur: The Red Pyramid ("the shining one"), the so-called Bent Pyramid ("the southern shining one"), and, from a distance, the largely ruined (because made of mud brick) Black Pyramid. We board out tour bus for the first time.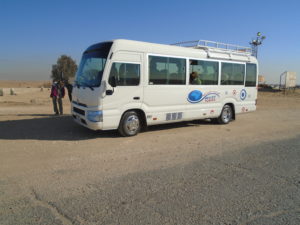 Surprisingly roomy and comfortable, complete with ice chest always filled with bottled water.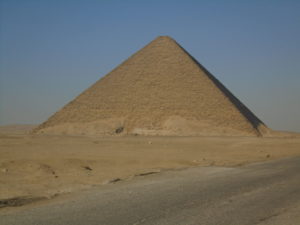 First stop, the Red Pyramid, vandalized (I don't know how else to express it) years ago by the systematic theft of its polished outer sheath. Several of us enter the opening and descend a cramped uncomfortable shaft to an empty chamber and an empty sarcophagus. Though it is early in the day, we are accompanied by a number of fellow tourists from elsewhere, younger, very much other-directed, radiating noise, random energy, and an impressive amount of body heat. Then, like a flock of sparrows, at some invisible signal they are gone, leaving five of us and a custodian in quiet contemplation.
I am led to try to absorb the energy of the sarcophagus not by touching it, but by almost-touching it; that is, by feeling it with my energy body rather than using the tactile sense. This will lead to something important, after a while.
We emerge to see, a little more than a mile (two kilometers) across the sands, the Bent Pyramid. We are told we can walk to it if we wish, or we can climb back into the bus and drive over. It doesn't look like a hard trek, so Sue and I decide to hike overland.
The sand is hard packed, and the terrain is only gently rolling, so of course there is no danger. Nonetheless that mile seems long enough before we're there. But how fine, to be able to breathe, deeply, the cleanest air I can remember breathing in a long time. And what a fine cloudless morning, so silent, so still and peaceful. Not a long walk, but one to be remembered.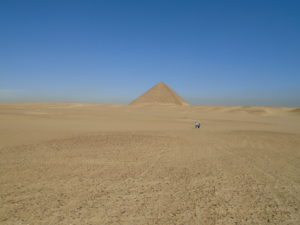 Looking back at two other pilgrims making the same trek
The Bent Pyramid is called that because it begins at one angle, then moves to another. There are many entertaining and unconvincing theories as to why it was built this way. The most absurd, in my opinion, is that the builders began to build, then realized that it wasn't going to work, and changed plans in mid-stream. As if anyone outside of a lunatic asylum would begin so major a work without having done the calculations ahead of time! And as if – having fortunately discovered in time that they hadn't known what they were doing – they then compensated with a brilliant stop-gap measure. Tell me another.
Nor is this the first pyramid to be attempted, so we don't have to assume it was learn-as-you-go. But we don't need to bandy arguments to appreciate the result.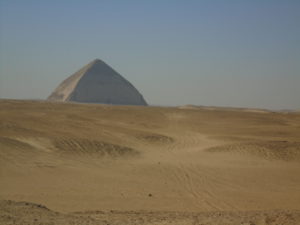 What they call the Bent Pyramid
This may give you an impression of the difference between how the pyramids looked before vandalism (top of photo) and after (below). With the casing, it would have been smooth, polished, shining. Without it, well, look at it. It's a mountain of stone partially quarried for the same of projects we don't know about and wouldn't care about.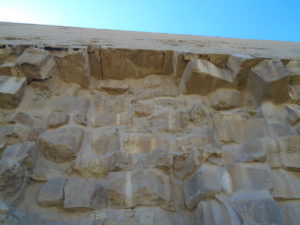 Now, I'm sure whoever took all that casing said, with Jefferson, "Earth belongs to the living," but I still take it somewhat personally.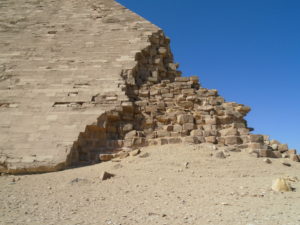 Finally, just for the sake of completeness, a glimpse at the ruined Black Pyramid. This is as close as we came to it, or wanted to come. Mud brick can't compete with stone, in longevity, in beauty, or in interest.