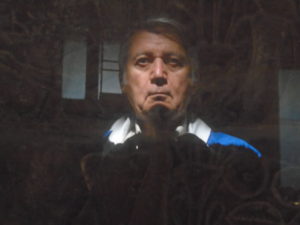 Semi-accidental selfie at the Cairo Museum
For the past two weeks, I have been touring Egypt — I, who for ten years have been saying "My traveling days are over." Three days in Cairo, a boat trip from Luxor up to Aswan, a trip into the Sahara to Abu Simbel, only about 20 miles from the Sudanese border — not my usual routine.
Although I have been drawn to Egypt from my earliest days, I never expected to see it. It was a very important thing to do, as it turns out (and as I never doubted, else I wouldn't have gone), and I'll write about it and post some photos in due time.