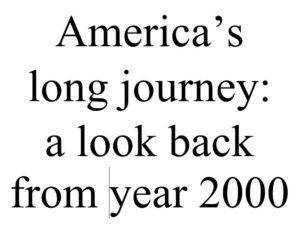 John Quincy Adams was the sixth president of the United States, following James Madison and defeated by Andrew Jackson. Everyone knows that, even if they don't know anything that happened during that term, and even if they know nothing of the congressional career that followed it, or the term as Secretary of State that preceded it. But even those who know that much often have little idea of his breadth of learning and experience or his long public service before he ever became Madison's great Secretary of State.
Let's look at his background. At age 10, he accompanied his father to Europe, where the elder Adams served as American envoy first to France, then to the Netherlands. When Francis Dana was sent to St. Petersburg, Russia, to seek diplomatic recognition from the Czar, he took along 14-year-old Adams as his secretary, and Adams spent the next three years in Russia, including travel in Scandinavia and Silesia. When he returned to the United States, he was fluent not only in Latin and Greek, learned from his father, but in French and Dutch, with working knowledge of several other European languages.
Adams earned a B.A. and an M.A. from Harvard College, gained admittance to the bar, and began to practice law, but his life took a decisive turn at age 26. He had won national recognition for a series of articles supporting Washington's decision to keep America out of the hostilities surrounding the French Revolution. Washington appointed him minister to the Netherlands. He liked his quiet life of reading, and probably would have rejected the post, but his father persuaded him to take it.
At the end of his appointment, he wanted to return to private life, but Washington appointed him minister to Portugal, \then promoted him to the Berlin Legation. Washington called Adams "the most valuable of America's officials abroad." After that, his father, becoming President, named him minister to Prussia, where he served until his father was turned out of office in 1801.
On his return to the United States, Adams was appointed a Commissioner of Monetary Affairs in Boston by a Federal District Judge; but Thomas Jefferson rescinded the appointment. Adams entered politics, and was elected to the Massachusetts State Senate in April 1802. He was elected to the U.S. Senate, and served from March 4, 1803, until 1808, when he broke with the Federalist Party. Adams, as a Senator, had supported the Louisiana Purchase and Jefferson's Embargo Act, actions which made him very unpopular with Massachusetts Federalists. The Federalist-controlled Massachusetts Legislature chose a replacement for Adams on June 3, 1808, several months early. On June 8, Adams broke with the Federalists, resigned his Senate seat, and became a Democrat-Republican.
Disowned by the Federalists and only partially accepted by the Republicans, Adams devoted his time to his Boylston Professorship of Rhetoric and Oratory at Harvard. The times were passing him by, not because he was unaware but because he remained loyal to principles that were passing out of favor. He remained true to the neo-classical politics of the founding generation, while the country at large moved to the commercial ethos and mass democracy of what would become known as the Age of Jackson.
In 1809, President James Madison named him our first minister to Russia. From the Czar down, he was popular, as was his English-born wife Louisa. (The Czar often met him on his walks.)
In 1812, Czar Alexander offered to mediate peace between the United States and Great Britain. The U.S. accepted, but the British declined. Finally, in 1814, Adams was recalled from Russia to serve as chief negotiator of the Treaty of Ghent, which ended the War of 1812. From 1815 to 1817, he served as minister to Great Britain, the post first held by his father. When he returned home to become Secretary of State, none could deny that he knew as much about foreign affairs, first hand, as any other American, perhaps more than any. He brought to his new position a wealth of training, experience and learning unsurpassed by anyone in our history. As we have seen, the preparation bore impressive fruit.