In November, 1999, my friend Charles Sides and I spent ten days in Peru. (I emailed him and said, knowing he liked to travel, did he want to to go to Machu Picchu; he replied, "Sure. Where is it?") a few photos from that trip.
Charles in Cuzco: On the steps of the plaza, in our hotel room talking to our mutual friend Daniel.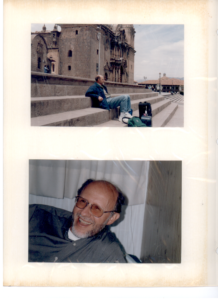 Notice the stonework at Sacsehuaman, a pre-Columbian ruin on the outskirts of the city. Neither Charles nor I have anything whatever to do with the fact that the place is ruined. It was like that when we got there.