My friend Michael Langevin suggests that I post a few pix of things I have painted over the years. I hope it doesn't result in my being accused of cyber-terrorism! 🙂
Usually I begin without more than the vaguest of ideas of what I'm going to do. Sometimes — often — I will put down one color in a few places, then wait for a feeling to well up within me as to what to do next.  If my listening is good, or if I'm lucky, or whatever the variable is, sometimes I wind up with something that I find very satisfying. I don't usually try to represent objects; I'm painting something else. Moods, as much as anything.
Here's one.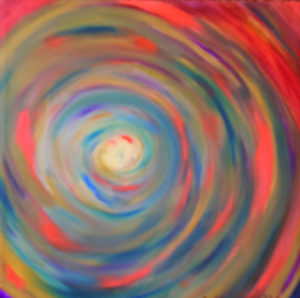 A little blurred, though, and I gave away the original, but it was one of my favorites. Somehow it achieved depth, motion, and balance. If I ever had a title for it, I have since forgotten it.
Here's another, this one given away to my friend (and Hampton Roads author) Maryanne Clare. I called this one "Stepping Stones," for reasons that would be easier to understand if the photo were better Framed this one, which i rarely do.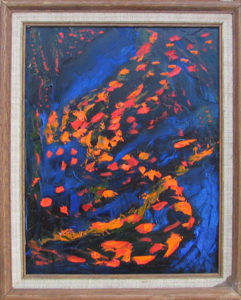 And a third, also (like free kittens) gone to a good home, in this case to Charles Sides' wife Jenny Horner. I had titled this one "Hallway. "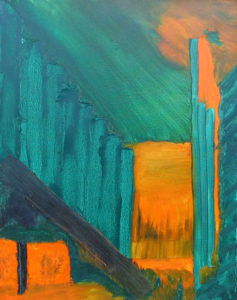 I'm glad Michael suggested this. This is fun!