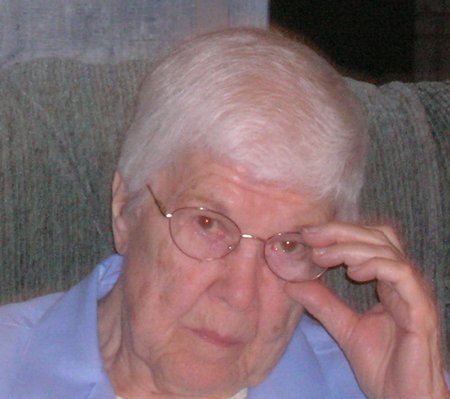 Marguerite Queen was born January 30, 1920, in Ohio.
(Think how long ago that really was! The World War had ended only 14 months before. Woodrow Wilson still had another year of his presidency ahead of him, and another four years of life. There were no commercial radio stations yet. Freud and Jung and Adler and Reich were all in their vigorous middle years.)
And along came miss Rita, whose mother would die in just a few short years, leaving her and her sister to be raised by her father. In due time she married, had daughters of her own, earned a Bachelor's degree, underwent analysis with Joseph Henderson, who had received his own analysis from Carl Jung, and went on to earn her doctorate. For many years, she was Rita Queen Warren, Ph.D., scholar and academic, and in those years she earned an honored place in her profession, teaching at Berkeley and at SUNY.
Then came her Gateway experience at The Monroe Institute, which transformed her life. She took early retirement, moved down to the New Land, the community built around Robert Monroe's institute, and became the initial director of his consciousness laboratory. For four years, she and her husband Martin conducted hundreds, perhaps thousands, of altered-state sessions with volunteers. Then she re-retired, and it was only when she was 80, the much-loved and respected wise old woman on the hill, that I met her.
In The Sphere and the Hologram, Rita and I told how we began working together. And in Rita' World I told how we unexpectedly began working together again, a full seven years after she passed over to the non-physical (in 2008, at the age of 88). She had no fear of moving over to the other side, and toward the end she had a sort of resigned impatience with the body and its limitations.
A few years ago, I remembered her birthday anniversary this way:
She and I used to raise a glass each January 30th, to toast Franklin Roosevelt, whose birthday she shared. So here's a virtual toast, Miss Rita. "Thanks for all your help (not least, an ever-listening ear). Thanks for suggesting the sessions that eventually became The Sphere and the Hologram. And thanks, on behalf of so many friends scattered across the globe, for all that you were. Whatever you're doing, may it be interesting and productive, and may you never lose that curiosity."
As I found out beginning in December, 2014, that birthday wish came true, and in a big way!