Sunday, October 25, 2015
F: All right, Papa.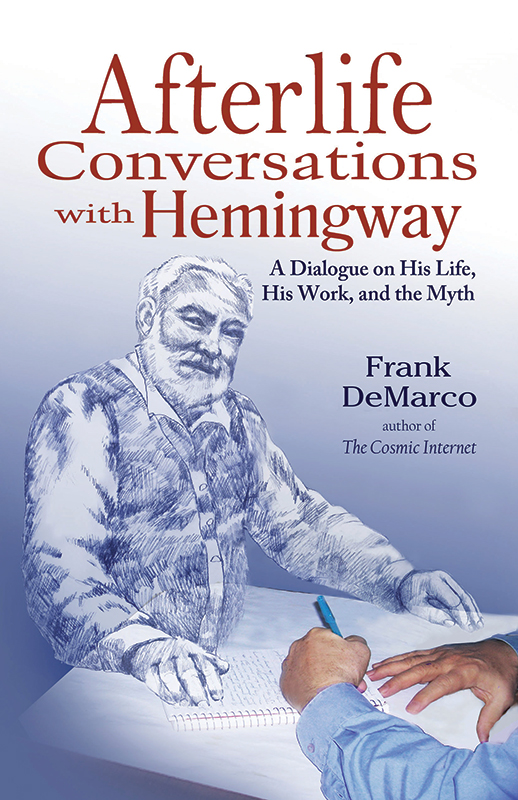 EH: I experienced the world as directly as a kid with a new BB gun on a camping trip, or like you with a new camera that time. Because I knew not to go to college but to take the world as my college, I didn't have my world "sicklied o'er with the pale cast of thought." I got it direct, and added my thought to it. Maybe that needs interpreting?
F: These days, I never know. It is clear enough to me, and I think it would be clear even if our minds weren't linked.
EH: Well, let us assume it, and proceed. If you will keep firmly in mind this distinction I just drew by implication, many things about my life will become clear.
I didn't have college, and occasionally I felt it as a lack, although I spent my life educating myself in the classics and in anything I interested myself in.

I experienced the world vividly and directly, without the veils people often put between themselves and their experience of the world by their beliefs, their habits, and their lack of attention or perhaps lack of sharp focus.
I had to report that world. I had to experience it, but I also had to report on it. It was a deep, deep drive.
So – when I was in the presence of men who had been to college, sometimes it didn't matter between us – as with Dos, say – and sometimes I had more or less a sense of contempt for the difference between the theoretical opportunity they had had and what they had done with it – any number of the arty Paris crowd of the 1920s – and sometimes I felt acutely inferior and intimidated by them, or what they represented, and I can't think of a specific representative but in general biographers and scholarly critics. And, once in a while, somebody I really respected and looked up to, but that kind of person, it didn't have anything to do with their going to college, it was what they were. Max, say, or Archie MacLeish.
Now, I can feel you wanting to pose a series of names and asking for how they fit in – Ezra, say – but that becomes a parlor game. You got the idea, let's move on.
You can see that the perceived lack in my background would be particularly thorny when I was dealing with (or even thinking about) guys who had had the background, but who hadn't had my background of directly experiencing the world. I don't mean, here, that they hadn't driven ambulances in the war, or hadn't learned deep-sea fishing. I mean, they didn't seem to have my direct sensory connection with the flesh-and-blood world, so that anything they did or said was just chasing shadows. They had credentials but they didn't have the essentials of the trade.
F: In that, you weren't necessarily fair to them, of course.
EH: Oh hell no, but I'm explaining the basis for that particular reaction. When I call the Transcendentalists bloodless, that's sort of what I'm getting at. They were spiritual enough; they were clear-sighted enough. They were even revolutionary in their way, because they were pulling against the drag of the idea that the world is the heavy dead thing that it can appear to be – but they were still somewhat crippled by the idea that there was the real world and the ideal world.
F: I'm with you, but we probably just threw off a couple of people. Few people today are as educated as you were, Papa. The distinction between real and ideal is elementary if you've explored the world of the transcendentalists, but not so much if you haven't.
EH: Go ahead, then, only it isn't the critical point here.
F: No I see that. Well, let's keep going, then. I'll just say the real, or actual, is what is apparent and the ideal is what is behind, underlying, the world of appearance.
EH: Yes, good enough. We don't have time enough to be explaining Plato and all his children. My present point is that the transcendentalists were as enmeshed in that distinction as the materialists around then, only they were on the other side of the tug of war between matter and spirit. But to me, matter and spirit were the same thing.
F: Very modern of you.
EH: That isn't what my contemporaries thought. Especially the college-educated ones, they thought I was only a physical man, and believe me, they would have underlined the "only." And that was true, but not in the way they meant it. And because they couldn't see the world as all one thing, I had a certain contempt for their blindness, even if a part of me wondered if they really did know things I didn't.
F: Never too comfortable being out there on your own, is it?
EH: It has its moments. But I always had plenty of friends.
F: Say, that just illuminated something! But maybe less than meets the eye. I was going to say, that's why you were always assembling a "mob" and planning your elaborate fun – you were always fighting loneliness.
EH: Don't carry that too far. There is a germ of truth to it, but only that. Mostly I enjoyed having friends around me and doing things with them that I particularly enjoyed. Some of life's great pleasures are essentially solitary, like sitting in the Prado for half an hour looking at one of my favorite paintings, or listening to music. Others, though, are communal, like eating and drinking and doing things in a mingled competition and cooperation. As in most things, I spanned the extremes. I liked both, and I didn't see any reason to cut off either end.
F: Conceding all that –
EH: Well, all right, sure I needed company. Do you know what it is to go so far into unknown territory all the time and be unable to report any but the slightest echo?
F: Say some more about that.
EH: You can't make me out to be an inner explorer, and you can't make me only an outer voyager. I was both.
F: Teddy Roosevelt's attitude toward life came to mind just then, either from you or from me.
EH: Or from the lamppost, and what difference does it make? TR is not understood as well as he might be, because people tend to get caught up in his external career, but that amounts to chronicling his reaction to events.
F: Henry Thoreau said our thoughts are the epic of our lives, "all else is like a journal of the winds that blew while we were here." (More or less, that's the sense of it. I may not have it exact.)
[I was close: The exact quote is: "our thoughts are the epochs in our lives: all else is but as a journal of the winds that blew while we were here."]
EH: That's it. Roosevelt's inner life is somewhat on display in his writings and in people's record of his conversations, but yes, a record of the winds that blew. There was a hell of a lot of Teddy Roosevelt in me. If he hadn't spent so much of his life in legislative chambers and then acting as president, his life and mine might be more obviously similar.
F: "A delight in life" is what comes to mind.
EH: You could go farther, too. We sharply experienced life. Did it ever strike you that he and I both came to life with impaired vision, but we saw more clearly and sharply than most?
F: It hadn't, no. Anyway, you needed friends around you.
EH: I also needed solitude. Don't forget that. What I had, though people couldn't see it somehow, was balance.
F: All right. Backing up, now. What's the theme of the day we have been pursuing?
EH: I experienced the world unfiltered by thought and preconception, and then I was able to apply thought and analysis and reconstruction to express what I had experienced. This direct perception – hard to know what else to call it – made me essentially different from most of the writers of my day. I was reporting a different world they didn't know and often thought I must be making up. And at the same time, the world I shared with fishermen and the poor and sportsmen and others who saw things direct did not include conceptualizing about it, writing about it. Carlos could see what I could see, and more, but he couldn't write about it. Couldn't even talk about it, and wouldn't even have thought to.
F: You were bridging worlds.
EH: But not by my writing, so much; by my living. The writing was the necessary offshoot of the living.
F: May I?
EH: Go ahead.
F: I think you just said, the process of writing was as essential to you as the process of experiencing, but the publishing of it wasn't as essential except as a way of making money to live as you wished.
EH: I didn't say that, but it's true.
F: And there's our ten pages. Till next time, then.
EH: See you then.