Yesterday Bob Friedman dropped off advance copies of my latest book, Imagine Yourself Well a book that was a long time in the making. A lot of practical experience went into this one, and I got it into only 100 pages.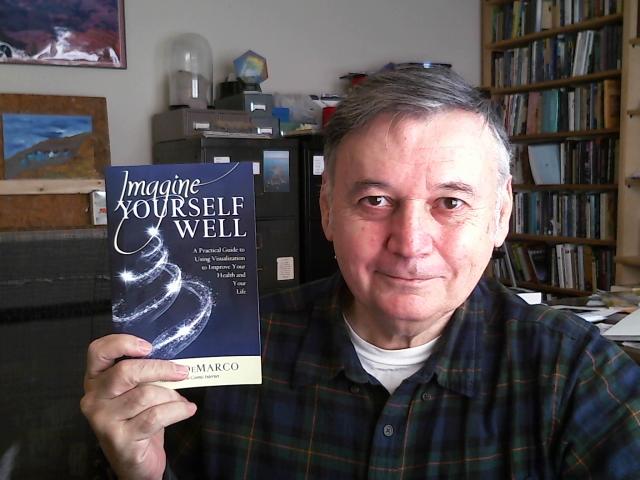 I meant for it to be severely practical. Here's the first part of the intro:
Introduction
In this book you will find simple techniques to improve your health. They are free, they have no side-effects, and they cannot interfere with any medicines you may be taking. You can mix them with whatever form of medical care you prefer. You can do them with your doctor's blessing, or you can keep them to yourself.
You can use these techniques, no matter how serious your present condition. Are you in continual pain? Seriously injured? Enduring a chronic degenerative condition? Whatever, it doesn't matter. You can use these techniques.
The only catch is that you cannot benefit from these techniques while actively disbelieving in them. You don't have to believe, but you do need to suspend disbelief, or nothing can happen. You cannot be open to new possibilities and at the same time be closed to them. It is that simple. And is it so hard, suspending disbelief? If you try and you can't make the techniques work for you, what have you lost? A little time. But if you succeed, you have more to gain than you can presently guess.
Please note, I do not promise you perfect health, any more than I promise you a life without problems. I have my own health problems, and anyway it seems to me that life could be described as a series of problems to be faced. I don't think that's at all a bad thing. It isn't like we're victims – as you shall see.
Neither should you get the idea that the state of your health in any way indicates your level of spiritual development. It would be a more convenient world – and a better behaved one – if the people at the highest spiritual level automatically enjoyed the best health, while those at the bottom of the spiritual scale endured suffering and misery. That would encourage people to work on their spiritual life! But your level of spiritual growth and awareness has little or nothing to do with your state of health, and I don't think it is very hard to figure out why that it. We are all working on different things in these lives of ours, and suffering can be a very powerful aid to growth.
In other words, affliction isn't necessarily always a bad thing, any more than perfect health is necessarily always a good thing. So much depends upon what is going on within the person, and no one is capable of judging this from the outside. Nonetheless, there is no reason why you shouldn't acquire more effective tools to improve your health.
Does this book give you everything you need to maintain your health? Well, yes and no. If you come down with a serious disease, chances are you are going to the doctor, if not the hospital. If you have trouble with your teeth, sooner or later you are going to go to the dentist. And sooner or later you are going to die of something, if only old age. But does that mean it isn't worthwhile to live according to the principles I have named here?
What would it be worth to you, to live in less fear? What would it be worth to be in greater connection to more parts of yourself than you once recognized? What would it be worth to recognize that your health is less a reaction to outside stress than an expression of what you are and what your life is? What is it worth to know that you and your family and friends need not be helpless before accident, and disease, and injury? Most of all, what is it worth to you to learn how to grow into so much more that you can become? Read on, and find out.