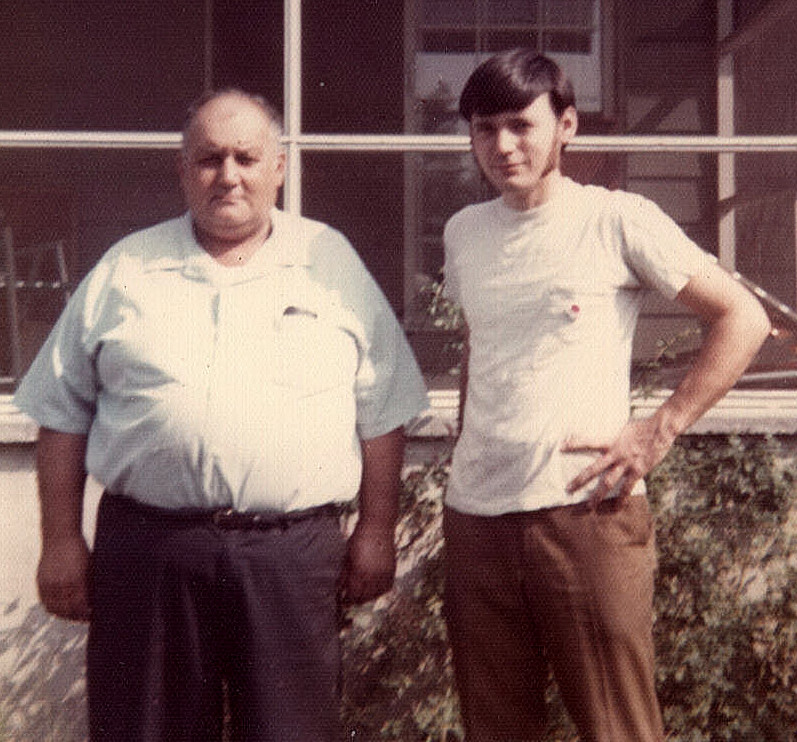 The funny-looking guy on the right-hand side of the photo is me sometime in the early 1970s, complete with long sideburns, a thick long  mop of hair,  and a  frame that now by comparison appears skeletally thin. The man I'm standing next to is my father. March 6, 2012 makes 27 years since he left us, age 70, less than five years older than I am now.
* * *
It is proverbial that children are slow to appreciate the virtues of their parents. Children observe everything, and are often unaware of the true interpretation of what they  observe. So, they make judgments, sometimes harsh ones, and years may go by before they see things in a different light. Perhaps it is most often true of sons and their fathers.
Yeats in one of his autobiographies, I think it was, wrote, rhetorically but accurately, "Why does the struggle to come to truth take away our pity, and the struggle to overcome our passions restore it again?" That may not be an exact quote — probably isn't, as it is from memory — but that's the gist of it. Very appropriate for fathers and sons. The young man, seeking his place in the world, desperate for certainties, looks on the life of his father with some condescension, perhaps with some scorn. The older young man, having seen that life is not so easy in execution as it appeared in conception, looks back and thinks that perhaps his father didn't do so badly after all.
My father was fat. That was probably  the first thing people noticed. At his most corpulent, he weighed 280 or more. Obesity  is one of those characteristics that people are very free to condemn as obviously the result of some moral failing, intemperance if nothing else.
And, dad could be very grouchy, very unapproachable. Although he was not one to stay mad, it didn't take him long to get there! Nor was he a man of wide sympathies; he was quick to condemn an idea as "simple" (as in simple-minded), one of his favorite pejoratives. And there you have about exhausted the list of his failings. The longer I have lived, the more impressive I find his long list of virtues and achievements.
He was smart, and he was versatile. He could do just about anything he set his mind to, from building a tractor out of two old cars as a young man, to mastering every aspect of farming a small farm in a time when large ones were pulling in six-figure subsidy checks, to building houses as his own contractor and participating in doing every job but putting in the bathroom tiles. He was quick with figures, out-figuring people using calculators. He did his own taxes, and his sisters', and several of  his friends'. He had daring, at one point having borrowed a total of a quarter of a million dollars — fifty years ago! — to finance buying and rehabilitating houses. And he was a shrewd judge. God, was he shrewd! I, being idealistic and systematically mis-educated by a clerical education, believed more or less what I was told. Dad knew better, and no doubt despaired of me many times.
And, mostly, he was kind, and generous, and had a lot of friends and deserved to have them, and kept them. Although he was quick to condemn a theory or a way of seeing things, when it came to people he was accepting, friendly, and non-judgmental. In short, an admirable man.
Well, enough of this. You're not going to get a sense of him from somebody writing about him, and that isn't what I wanted to do here. My point is something that perhaps you wouldn't expect in this connection.
For much of the time  Dad was alive, I was too young to appreciate him. It was only in his final decade that he and I came closer to understanding and appreciating each other. (I was in my 40th year when he died; time enough to have learned a thing or two.)  But after someone dies, you know how we often think, "I wish I had told him," or "I wish I could ask his advice now." It is my great good fortune that in time I learned how to do exactly that, and have done so more than once.  And the nice thing is that since our communication is now mind-to-mind rather than personality to personality, we can really understand. As in all communication with those in the non-physical, what you know, they know. There's no concealment, but no misunderstanding either. It's nice.
The bad news is that sometimes it takes too long to appreciate our parents. The good news is that it need not be too late to talk to them just because they've left the body. In fact, it may be that you come to truly understand each other only then, for the first time.
Like Dad and me.