18. Columbia Gorge
Tuesday Sept. 27, 2005. As it happened, it is a day when I do everything right.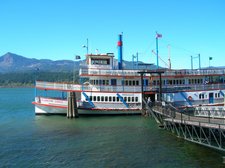 The day before, I had driven past all the river attractions to get to Mount Hood. Awakening at Timberline Lodge, I am tempted to keep going west toward Portland. But I still want to see the river! So I decide to retrace my steps to Hood River. I know I've done the right thing when the turn-off I need proves to be less than a mile from the road leading from Timberline. I drive down to Hood River, decide against stopping for lunch, and therefore arrive at Cascade Falls at just quarter to twelve – with the Columbia Gorge scheduled to leave at noon.
This is a legitimate sternwheeler paddleboat that takes people for a two-hour trip on the Columbia River, starting at Cascade Falls, dropping down to the Bonneville Lock and Dam, then back upriver a way and back down to its mooring. "I'd better do that," I say to myself. (A new sensation. The young girl selling tickets looks at me, hesitates, and asks if I might qualify for their senior-citizen discount, which I do, as it kicks in at age 55.) Cleverly assuming that it just might be cold on the river, I go back for my coat and watch cap, and am very glad of it before long. I also brought my journal, and the Timberline Lodge baseball cap I'd just bought, both of which turn out to be more trouble than they are worth.
Since this is a Tuesday, well after Labor Day, the boat is not particularly crowded. There is no trouble getting a spot just where I want to be — as high as I can get, and as far forward. Climbing the stairs (yes, stairs, not a ladder) toward the pilot deck, I hear a woman behind me say something to her husband. "British?" I say. "Where are you from?" "Wiltshire," she says, and I blinked for a minute, then say, "oh, where the crop circles are. Near Marlborough, are you?" That is her turn to blink. I realize later they are probably more used to people mentioning Avebury and stone circles, not Marlborough and crop circles. But this is an introduction, and we chat for a few minutes. Nice couple. I take their picture with their camera, and they take mine with mine.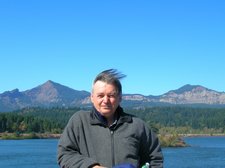 As soon as we get underway, we are moving into a stiff breeze from the west, and talking gets harder. Holding on to my journal and being sure that my baseball cap doesn't blow off gets harder, too. (I wind up standing with one foot on the journal, and tucking the cap into my waistband and relying on the watch cap.)
The ship's captain keeps up a running commentary, through which his experience and knowledge and his Oregonian pride show clearly. As we proceed downriver, he predicts that moving into the lee of one of the little points or islands will diminish the wind, or will show us where Lewis and Clark did this or that. (He has us at his mercy, of course, but if I had to bet I'd put my money on most if not all of what he said being pretty accurate.) He furnishes us with impressive but ephemeral statistics on fishing and logging and rapids and dams and what-all. And behind the genuinely interesting commentary was that river!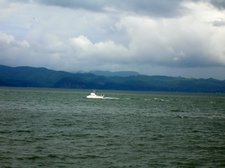 How to describe it? So much that describes scenery becomes cliché. Blue sky, blue water, unrelenting wind, distant prospects. Can we do better than that? How about this? The river flows between banks that look like what they are, the middle of a huge ravine, gouged out of the land in massive ice- and water-flows over thousands of years. To the north, to the south, the land is higher, and you look out at what seem like mountain ranges on either side. But the mountains slope down to river level, and the river flows not as a narrow interruption of the mountains, but as the lowest part of a valley between ranges, a valley that continues for a short distance on either side of the river, depending on where you are.
I know full well that the Columbia we sailed on is not the Columbia that was. What was, was a mighty torrent, untamed and magnificent. What is, is a series of lakes defined by the dams that created them. Where there were falls so dangerous that pioneers preferred arduously portaging around them, now there is a river-lake-segment whose surface is higher than the highest part of the falls that were drowned beneath them. Where there was a great mass of water that flowed more or less where it wanted to, when it wanted to, as it wanted to, now there is stability, and tranquility, and no doubt this is all good for commerce, but it isn't the Columbia that was.
Doesn't matter, really. It is still so beautiful! The wind and sun in my face, the clean crisp air that is a joy to the lungs, the long vistas of blue and green, and the near views of blue and green and brown – what a day! As I said, it is a day when I was doing everything right.
19. Ready to go
In fact, I don't make a bad decision all day.
After the boat ride, I drive to the Bonneville Lock and Dam and go through the museum there. Opting out of a tour, I wander around on my own, and come away quite satisfied. There is, for instance, the film on Lewis and Clark, and another, shorter one, on the history of the Bonneville project itself. There are the exhibits, of course. But what makes as much impression on me as anything else is the room with the glass windows into the fish ladders. Never saw anything like it: Water, pale green in the reflected sunlight, rushing from left to right, and every so often fish, much darker, sometimes startlingly large, making their way from right to left, upstream as advertised. Sometimes one at a time, sometimes a few, sometimes a shoal of them, anywhere from floor level to above eye level. My digital camera works overtime, and I do get several pictures that – to me at least – are as striking as anything else I saw in Oregon.
I intended to go from the museum to the fish hatchery, located a mile downstream. But nearly as soon as I got there, something says no. I look in the first fish tank, find I'm not much interested – particularly after what I had just seen – and follow an impulse telling me to leave. I don't even make a stop in the gift shop.
I wonder: What's the hurry? But I leave anyway, and as I get back onto I-84, I realize, that's the last sight-seeing I'm going to do in Oregon. Time to find a hotel and get ready to return the car and take the plane the next day.
Again, it works out perfectly. Just as I get to the junction of I-84 and I-205, traffic jams up solid. I am delighted! I have to turn onto I-205, go north for two exits, and get off onto Airport Way, and I hadn't been looking forward to it. But with traffic locked up, I do it at 10 m.p.h. instead of 60! And – bonus – the traffic hadn't locked up until just when I needed it to!
And even then the perfect timing doesn't let up. I don't have reservations anywhere, and the first hotel I see is a Hampton Inn, my favorite chain. I go in and ask if they have any rooms for the night and a woman behind the desk tells me that they do not. Until now the day has worked out well, and I had assumed it would continue going well until I made a wrong decision. I am disconcerted, for just about three seconds. Then another clerk looks over at me and says there is one. He had just called someone who had reserved the room – and the man had told him that he had made other arrangements. If I want it, there it is.
Perfect timing. If I had arrived ten minutes earlier, the space would not have been there. Ten minutes later, and perhaps someone else would have gotten it. I love it when I'm on the beam.